Core Temp Download is a powerful program that monitors the temperature of every processor in your system. It does so in real-time, allowing you to see the changes in the temperature of each processor during different tasks.
Core Temp is a utility program that monitors the temperature of your computer's central processor. It displays the real-time temperature and provides information about the model and platform of your processor.
Aside from Core Temp, there are also other apps that can measure and display your CPU's temperature. These include Real Temp and HWMonitor, which both offer the same features, but they also have the added ability to add plug-ins.
Unlike other temperature monitoring tools, Core Temp can display the exact temperature of each individual processor in your system. It does so in real-time and can also detect temperature fluctuations across various tasks.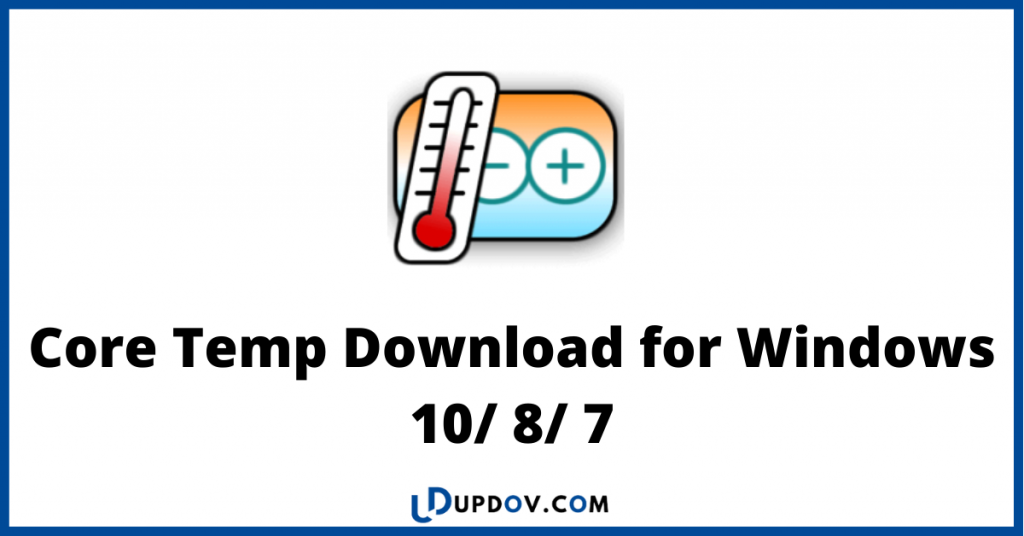 Intel's first generation of CPUs, including the new Core i7, are supported. AMD's first generation of CPUs, including the new Athlon64 and the Opteron, are supported.
Unlike other sensors, this one is digital and is not reliant on an external circuit. This means that it eliminates the need for external peripherals to report temperature.
Supported AMD Processors:
All FX series.
All APU series.
All Phenom / Phenom II series.
All Athlon II series.
All Turion II series.
All Athlon64 series.
All Athlon64 X2 series.
All Athlon64 FX series.
All Turion64 series.
All Turion64 X2 series.
All Sempron series. (K8 and up based)
All Opteron processors.
Supported Intel Processors:
All Core i3, i5, i7 series.
All Atom processors.
All Core Solo series.
All Core Duo series.
All Core 2 Duo series.
All Core 2 Quad series.
All Core 2 Extreme series.
All Celeron-M 400 and 500 series.
All Celeron series.
All Pentium series.
All Xeon (Core-based) processors.
Measuring fluctuations in real-time
The easiest way to install and set up the core Temp is by clicking the Free Download button. After that, just follow the steps below to complete the download and install the program.
In the main window, you'll see the number of threads and cores your processor has. You'll also see the processor's temperature readings.
You can reset the max and min recorded temperature of your computer at any time. This feature can be used by clicking on the menu bar at the top of the window and choosing "Reset High/Low".
To prevent overheating, your processor's core temperature should not exceed a Tjunction Max value. This value can help protect your PC from potential issues.
What other features does Core Temp have?
Aside from displaying the temperature of your PC's core, Core Temp also keeps a log. It records data every 10 seconds and can be accessed in Excel or any other application.
With overheat protection, you can notify others about the condition of one or more of your processor's cores. This can be done in various ways, such as a simple pop-up or a program.
Is Core Temp accurate?
Core Temp is a program that works seamlessly with any modern x86-based processor. It collects temperature data from the Digital Thermal Sensors present on each core. This allows for better resolution and accuracy.
All of the data collected by the processor is stored in a special register, which can be accessed and read by the user in an easy-to-read fashion.
Core Temp vs. Real Temp
Real Temp is a companion device to the core Temp monitor that provides a variety of useful tools for monitoring various aspects of your PC performance. It also collects data from sensors and logs your performance history.
Unlike Core Temp, Real Temp doesn't install itself. After unzipping the program, run it and see the temperature ranges of your PC. This saves it as a utility that can be used on a flash drive.
Core Temp is compatible with most major processor families, such as Intel, AMD, and VIA. Real Temp only works with Intel CPUs.
One of the best free CPU monitors
This free CPU temperature monitor uses minimal power to provide reliable and error-free readings. It features a high level of customization that lets you increase its capabilities.
If you're an avid user of overclocking or just want to keep track of your performance, then Core Temp is the program for you. It will monitor your core temperatures and provide you with alarms that will warn you when it gets too hot. It can also monitor other systems that are running smoothly.
Which processors are supported?
Not every PC processor can work with Core Temp. Most of the time, though, it works seamlessly with most of the available CPUs. If you would like to modify it, then you could modify it as well.
How does Core Temp work?
The details of the DTS are streamed to Core Temp, which is a graphical interface for monitoring your CPU. It shows you the temperature, load number, and maximum temperature of each core.
If the base program is too basic, then you can modify it to extend it to include features that are already built-in.
What should I download for CPU temp?
The details of the DTS are transmitted to Core Temp, a graphical interface that lets you monitor your CPU. It shows the temperature, load, and maximum temperature of each Core.
Is core temperature 1.16 accurate?
The readings are very accurate since they're computed by taking the data from a Digital Thermal Sensor, which is housed in each processing core.
What is a normal CPU temp?
The ideal temperature for a desktop computer's CPU is around 120F. It should also be under 175F when under stress. If its overheating, your computer can suddenly shut down.
What CPU temp is too high?
Anything over 80 degrees Celsius is very dangerous for a CPU. In order to get the most out of your PC, you will want its temperature to be significantly lower than this.
What is a bad CPU temp?
If your processor has an Intel core temperature of over 85 degrees Celsius, it's probably a cause for concern.
How to Core Temp 1.17.1 Download for Windows
Click the Download button at the top of the Page.
Wait for 10 Seconds And Click the "Download Now" button. Now you should be redirected
to MEGA.
Now let the Start to Download and Wait for it to finish.
Once Core Temp 1.17.1 is done downloading, you can start the installation.
Double click the setup files and follow the installation instruction
Disclaimer
Core Temp 1.17.1 Download for Windows is developed and updated by Alcpu. All registered trademarks, company names, product names, and logos are the property of their respective owners.